Making Meaning & Beauty with Excel with Marius Fischer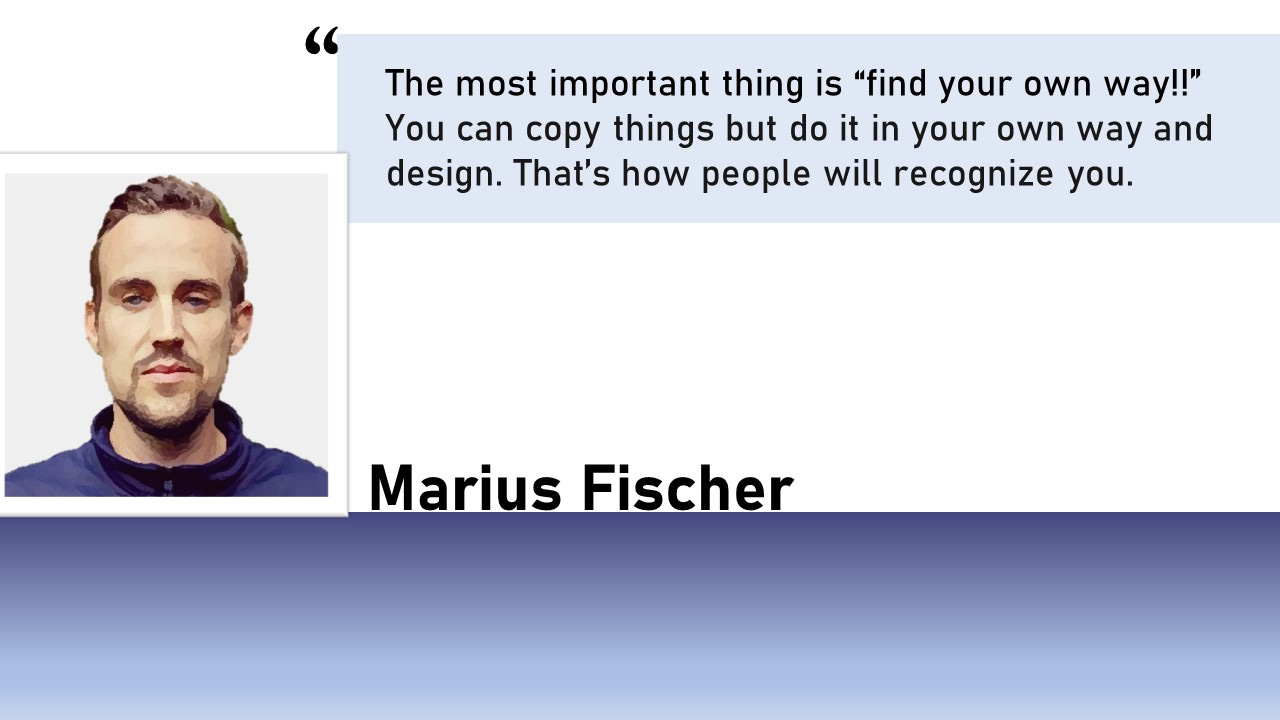 Marius Fischer makes insightful & compelling data visualizations with Microsoft Excel. This earned him the nickname 'Mr Excel. We discussed Excel as a tool for football analytics work, Marius' experience, and more.
We'd like to tackle what everyone thinks (when they see your viz): How do you do it?
Well, here is a small time lapse of some of my old templates. I don't do it the exact way anymore but it might give you a quick view of how it basically works
Beautiful. We know a lot of experience goes into making your viz. Can you give us a background into your affair with Excel.
To be honest it came overnight. I never had any touching points with data analysis at all. Never even used Twitter. I was just a normal youth coach in Germany. I then started writing for an online tactics blog Thefalsefullback and started to use Twitter more regularly.
The many data visualizations I saw impressed me and I started doing my own staff. As I couldn't program I used Excel for it. First tries where some simple scatter plots and no one really noticed my work. I then saw one of Kirk Goldsberry NBA maps and thought "why shouldn't I do something similar in football?" there were Shot maps before of course but not really in a great eye pleasing way I thought. And then I did my first "shot map" which was for Haaland. This was the start of everything.
A lot has happened since you made this viz. Can you describe your learning curve in terms of analysis and design during this period?
I always tried to do little tweaks and get inspired by other people I followed from the start (f.e. Peter McKeever). I developed quite a good feeling for what looks good and therefore always added these or that. The next real "innovation" was my first 3D map.
I got the idea at night and just tried out different things to do it in 3D. The feedback I got was so great for me that I really thought "wow, it might be indeed something special".
What aspects of Microsoft Excel do you think most football analysts overlook?
Well... I think if you are good at programming, Excel is no real alternative for you. But not many people really are into programming. And there comes Excel into play. Everyone knows excel and it's very intuitive. You don't need any programming experience at all.
The work I do is very exclusive as I do a lot of things manually but of course you can also use positional data that you insert into the templates. So, for everyone who don't has the time or will to get into python f. e. Excel is a great alternative.
YES, it requires a lot of effort and dedication but it pays off in the end. When I was a coach my players loved the 3D maps as they really could imagine standing in the pitch.
Great real-life example of data viz advantage. What are the major differences between life as a coach and analyst?
The time flexibility. I love being a coach but the time effort you put in is just immense. Especially if you don't earn much money from it. You are away nearly every evening and on the weekend with hardly any spare time.
As a data analysts/scout/writer you can plan your time with much for flexibility. Sometimes I created vizzes in the morning. Sometimes late at night. That is the biggest advantage for me. But of course coaching is the "main" thing in football and gets much more recognition.
We are witnessing a sort of explosion in the use of data for scouting. Covid-19 adding more push to the trend. What are your thoughts on data and video scouting?
I think a mixture of both is necessary. Data alone will never tell the whole truth but it can indicate some important tendencies which help to filter out players in advance. But I'm still a fan of personal/video scouting as you will never be able to make data of Body language, spirit and communication skills which are all important abilities for a player!
If we ever get to a time when AI can accurately detect emotions and other distinctly human attributes, will you change your mind? ☺
Maybe. But I doubt that if that time comes we all still use Twitter.
You also work as an editor. What's that like?
It's great that I have the chance to work full-time in the sport that I love. 1 year ago I never thought of this. I enjoy every day but it's still a normal job. You have a lot of things to do just like in other jobs. Still it does not feel like "stress" for me as I love what I do.
That's cool. How long do you think a total newbie to Excel needs to start creating beautiful viz like yours? What specific courses/books will you advice them to read?
Always depends on the amount of time and effort he/she want to put in. I've started a Patreon page where I start posting tutorials and step-by-step basics as so many people asked for it in the past. It's just €3 as a small expense allowance for me but I guess it's worth it. Here you can join starting with €1 for a player visualization request. I'm glad for everyone supporting me as I always put a lot of effort and time in it. I'm also always glad to answer any questions in my DM's.
Are there open source resources you would recommend?
For Excel it's hard to find something on the internet as I don't think there are many people that really go into that detail in terms of football data visualization with excel as it's quite different to normal data viz. But in the end I can even create the classic radars there.
Indeed. Football analytics is still a relatively young field. Another reason analysts should use familiar tools to get started. What's your approach to design, where do you look for inspiration?
I always try to look far beyond football for my inspiration. Like I said, Kirk Goldsberry was a big one in terms of design. But the most important thing is: "Find your own way!!" You can copy things but do it in your own way and design. That's how people will recognize you.
What are your future plans in data visualizations?
I'm still unsure if I want to work in professional club football sometime. But I feel that I at least want to try it one time. Till that happens I just try to develop as much as I can and make people happy with my graphics.
One short-term goal is to be able to buy some new software to make animated graphics and get access to positional data so I can add even more to my visualizations.
That would be nice. Quite sure you'd make more awesome viz. We'd like to know who would make your all-time 5 aside.
Ter Stegen - Nesta - Pirlo - Kaka - Ibrahimovic. Chosen by players I like, not just by quality.
You can use this link to learn how to make data visualizations with Excel.