Investigating the beautiful game with Tolu Olasoji
Few professions shape public perception as much as journalism. We caught up with international sports journalist, Tolu Olasoji, to discuss how he got into the profession and some of his most important stories.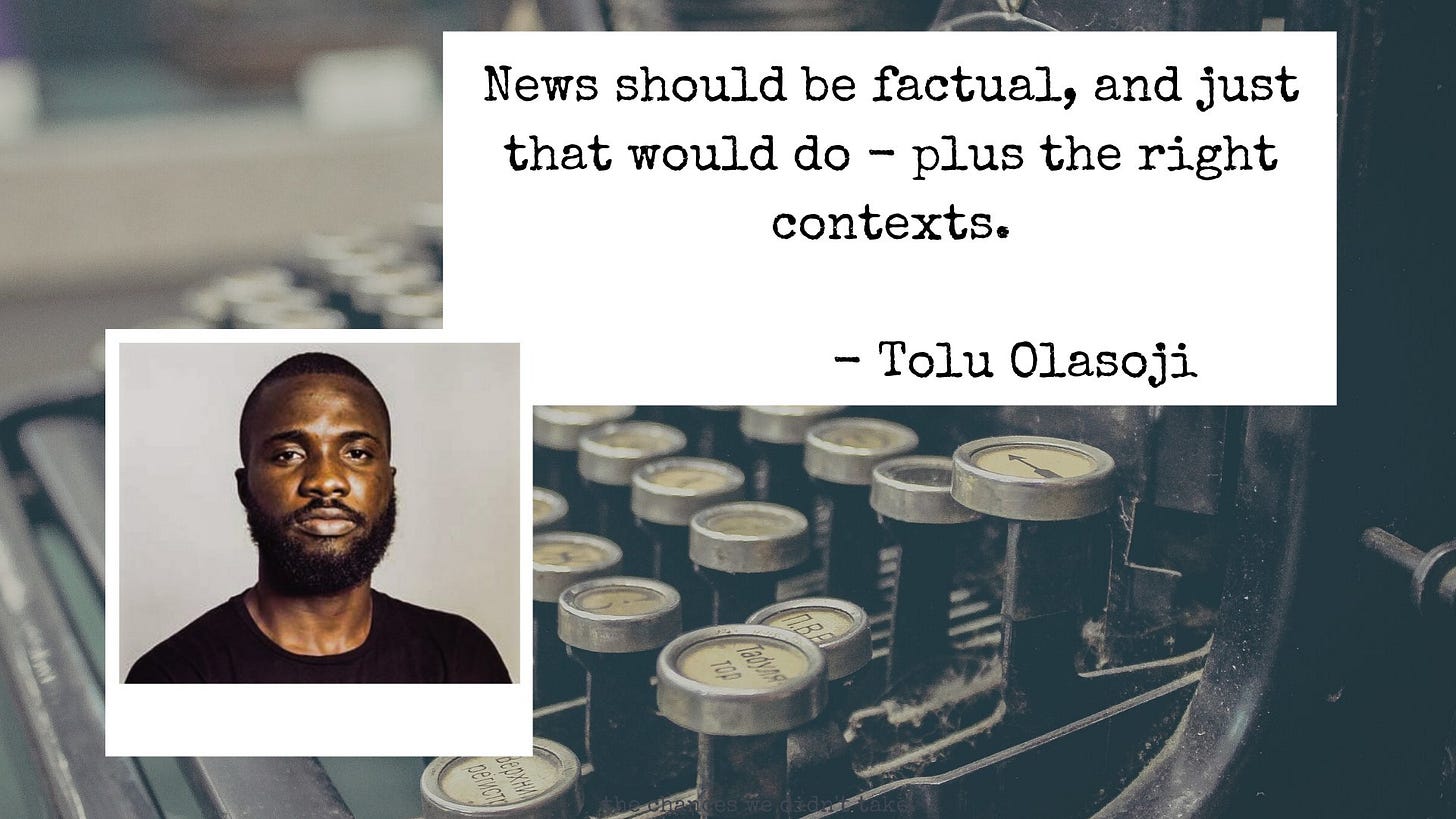 How much of your work life has changed as a result of the covid-19 pandemic?
It has changed to a large extent my focus, and the positive here is it's broadened my horizon and allow me to learn more about some other subjects outside of football and sports.
Can you let us in on the aspects you've delved into this period?
I've immersed myself more into subjects from social issues to esports, and a lot of things in between. However, it's been tough on the income end, seeing as a lot of publications are cuttjng down due to the effects of the coronavirus, and it leaves freelancers on the fringe/out.
Some brands immersed themselves in esports during this pandemic. Do you think their interests will continue after covid-19?
Perhaps. It depends on what they are in for.
Are they in it just because it's the "new cool thing" as revealed by the new reality of the world? Or they are in it because they realised how much they've missed out on? It depends. The motivation will determine their success.
Take us a bit into your motivation for journalism. How did it all start?
Okay. This is something. Haha.
I found it quite hard to understand the concept behind football, seeing as it's a game that could end with no end result, and by "end result" I meant, 22+ players and staff planning to chase a ball for 90 minutes and the game ends goalless.
To be honest, such made no sense to me. I've witnessed basketball, you made the basket as far as you could blink. But then, my acceptance of journalism coincided with my that of football, and pretty much every other sport, later on.
The realization that whatever I saw on the pitch wasn't definite.
There are stories before and after matches that stoke up the tension, the anticipation. There are folklores. There are tactics. There are the die-hard fans who shared history with the sports. There are the athletes from unique backgrounds whose stories can't be told the same way. And with that realization, I cherished the back pages of newspapers. I'd often keep a stack of under my mattress and collect new ones off my dad's or off the floor, basically wherever I could find them.
I was pretty young. And it never even crossed my mind that I'd be on these pages one day, or I'd be read in the country and anywhere from across the world. My appetite for it became voracious and here I am today.
I studied Banking & Finance, but opted to try my hands at writing in my third year.
Interesting that the quest to uncover the truth about football led you down this path. What skills did you develop to make you fit for purpose?
I've always been IT savvy from when I was young, my mom's job helped. And that helped me with some digital skills
Also, I have an eidetic memory, and this helps me a lot. And obviously, practising and developing my writing skills. I always want to know the thought process behind the writings of my favourite writers/publications. So that curious mind aided my development. I don't just read as a reader. I read to understand why this is this, and also question a lot! And I read pieces a lot.
And I use Google a lot too. Very important.
Voracious reader. Ernest searcher. In this age of "fake news", how do you avoid being misled?
It's quite easy for me because I tend to question everything. It comes with my job too, I guess that's why. But even prior, I'd question by checking the tone of the story, could be the headline - if it's a lot sensational/misleading/fabricated.
Also, the source of the news. This age, virality is the order of the day and you must be careful not to fall prey to it. News should be factual, and just that would do - plus the right contexts. There is no way a fact would be fake. That's the reason it's called fact. Unfortunately, people still fall for unscrupulous elements.
One of your investigation published on Aljazeera covered the issue of scam football agents. Can you give us a background to that story, what inspired it and how you went about the investigation?
I got a lead on the story by chance and I stalled the first time, because it isn't the sort of story my publication then (Goal) fancies.
After I resigned, in my many introspections, I realised out of the many stones I left unturned, Afolabi's case might be one. I reached out for the first time ever, in June 2019 (heard of his situation in December 2018). I was hoping his case had progressed but it'd only worsened. I had to immerse myself in it, read a lot about similar issues, reach out to professionals from lawyers, club owners, journalists, agents and so on, just to make sense of the case. Also, I tried to get to some organisations that could help with his case. And luckily, my pitch for the story got commissioned by Al Jazeera and my commissioning editor worked in tandem with me.
Also, I reached out to the parties at the center of discourse. Several Documents was exchanged to verify claims and I was able to document these and more in this story.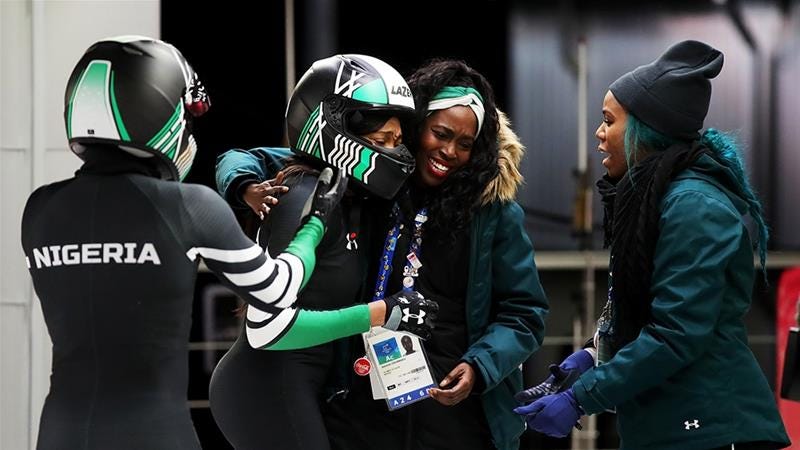 The Nigerian female Bobsled team [Alexander Hassenstein/Getty Images via Al-Jazeera]
A follow-up story covered the intervention to get the footballer home. What can be done to solve this problem of football scam in Africa?
Education about football and mentorship is paramount.
Players and former players have to do more by telling stories that would resonate with youngsters and football hopefuls. Also governing bodies have a role to play, and there has to be a clear path to tow for affected athletes
Talking about telling stories that resonate with hopefuls, your piece on the first African bobsled team to make the world championship qualifies. What led to that article, seeing the sport doesn't get any coverage here?
I'm all about reading/getting the relevant stories out. And I was happy something of such was happening. At first, the Nigerian Bobsled ans Skeleton team were a phenomenon in PyeongChang in 2018. This transcends their outing there. Each athletes, their stories were truly inspiring and they were truly trailblazers. Now bringing such to Nigeria, Africa, it's a lot demanding and you need the guts to pull it off. I mean, it's a sub-zero sports brought to Sub-Saharan climate. So, once again, I was curious. How does Seun want to pull this off?
I recorded 90% of the event with either my recorder or an amateur camera I had with me on that morning/afternoon. I wanted to feel the pulse and I wanted to know every process and their thoughts about it. If they had any doubts too.
So, I had Seun and Akwasi, and the other relevant people take me through all of these. Also, I got the thoughts of trialists. It was such a process, but I enjoyed it, and I'm glad to know that their dreams would come through.
I helped assemble the sleigh, rode on it, helped out with the sprint timer and some other aspects. I also vibed to their music as it acted as it helped keep spirits up when the sun came out. I wanted to see how it works and I wanted it to work, because it's such an idea!
You have an eye for good stories. You've also trained to spot football talents via the IPSO Scouting course. What made you delve into scouting and how would you describe the training program?
I've always maintained I'd rather get on the pitch that go into the backrooms. I've always been drawn by it, so when I was presented the opportunity by @ipsofootball's Nigeria coordinator @stgboye (Adeyemi Adegboyega), I grabbed it with both hands. I remain grateful to him, and I see what's for others. It's indeed great! It helped me understand the game better and redefined it!
And it has helped me become a better football writer/analyst/journalist. I've not began to tap into it as I'd love to though.
Awesome. In closing, we'd like to get your take: Messi vs Cristiano
Lmao. I'm not serious on these matters and I take nothing to heart, my friends can attest. That being said, I have an advice, enjoy both of them - they have few years left.
Indeed. Who is your favourite player of all time though?
David Beckham
Ronaldinho
Morten Gamst Pedersen
Didier Drogba
Austin Jay Jay Okocha
Gareth Bale
Juninho
The list is endless, and they all have unique traits.