Football Illustrated with Alex Stewart of Tifo Football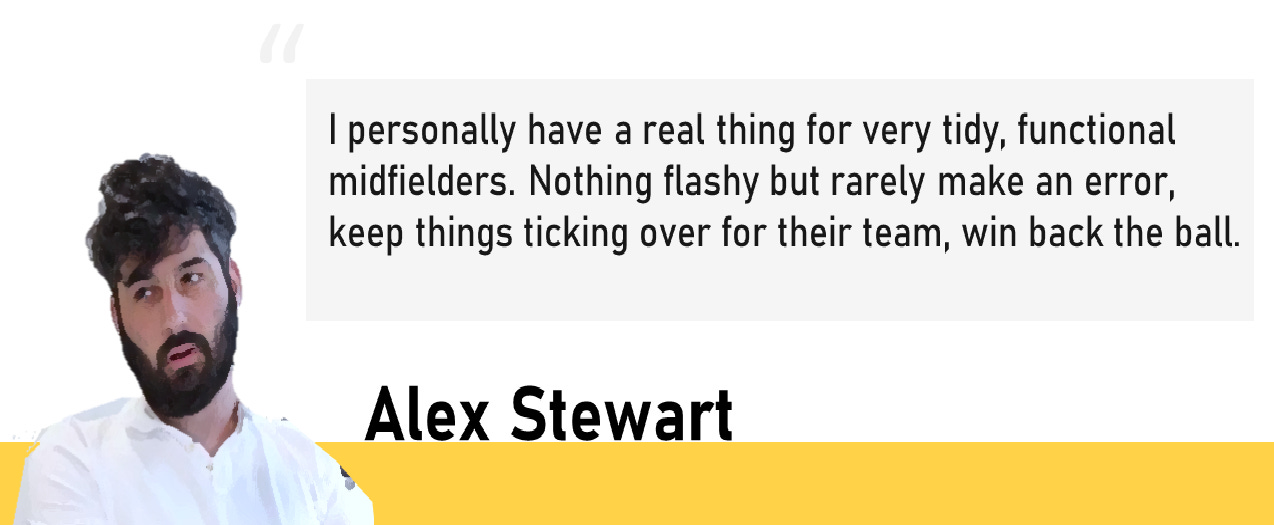 Tifo Football is one of football's most loved media brands. Their crisp illustration videos touch on different aspects of the sport from finance to tactics. As script writer for Tifo Football, Alex Stewart is one reason the brand is now synonymous with engaging football content. We chatted with him about life before Tifo, his work, and his favourite players.
How do you decide what content to work on?
In terms of what I write for Tifo, it's very much a collaboration between Joe Devine, our executive producer, and me. We have regular conversations about what we've noticed that might be interesting, discuss ideas, or plan upcoming series like Sensible Transfers
Can you tell us about life before uMAXit/Tifo?
Of course. I studied English at university, and then did post-graduate research into medieval English, specifically religious poetry about or featuring hermits (yes, I know). I then spent six years in the police, before resigning in 2014 to work in sports writing.
I spent a few years doing various projects, including working on the Rugby WC '15 with Simon Gleave, freelancing for LiveWire Sports, and also working on strategy/content for a coffee discovery app, before joining Tifo full-time in 2018, although I was already writing for us.
Your previous roles were "people-oriented". Do you think they shaped your approach towards sports writing?
I think the focus on research and on spotting patterns definitely shaped what I've gone on to do, but the people focus helped professionally a lot, because much of freelancing is working in teams and communicating, so that certainly helped me, yes.
Tifo has a voice. It's lucid. It's exciting. How would you describe working with Joe?
Joe would want me to say it's both lucid and exciting...actually in truth it's great. By the time I started writing and then joined full-time, that voice was established, but it's the way I wanted to write about football anyway.
Obviously writing scripts is a slightly different challenge, but Joe had established such a clear way of working that it wasn't too hard to adapt. I still write too much, and too densely, at times, but Joe or Seb's editing sort that out so the end product is better.
Do you ever feel your writing isn't simple enough? How do you define "good enough"?
We try to cover a broad sweep of topics, from finance to tactics, politics to the more technical videos like this one. I think writing knowing that it'll be accompanied by great visuals helps, because I know I don't have to say *everything*.
'Good enough' is really hard to gauge. I suppose you can tell in part by how an audience responds, which is really important, obviously. But also my own process of working and revision means I have a good sense of when something's right enough to work. Perfect isn't possible.
Football writing is a difficult space. If you had to do it all over again, how would you go about it now?
Good question. I think I would learn more about industry first, make contacts, find out about pricing and pitching and so on. The mechanics of it are as tricky as producing the work. I got good advice from some kind people early on, which helped.
I definitely would have saved more and learned to budget better before going freelance, too. And spent far less on books, although they've probably helped in the long run.
Talking about advice: what's the worst you've received?
Hmm. Hard to say, actually. I don't think I've ever received actually bad advice. Perhaps the sense of writing what you know, or staying in your lane: I think it's beneficial to keep trying to learn, work out new angles, new areas of interest. But that's hardly 'bad' advice.
According to YouTube, these are Tifo's oldest videos.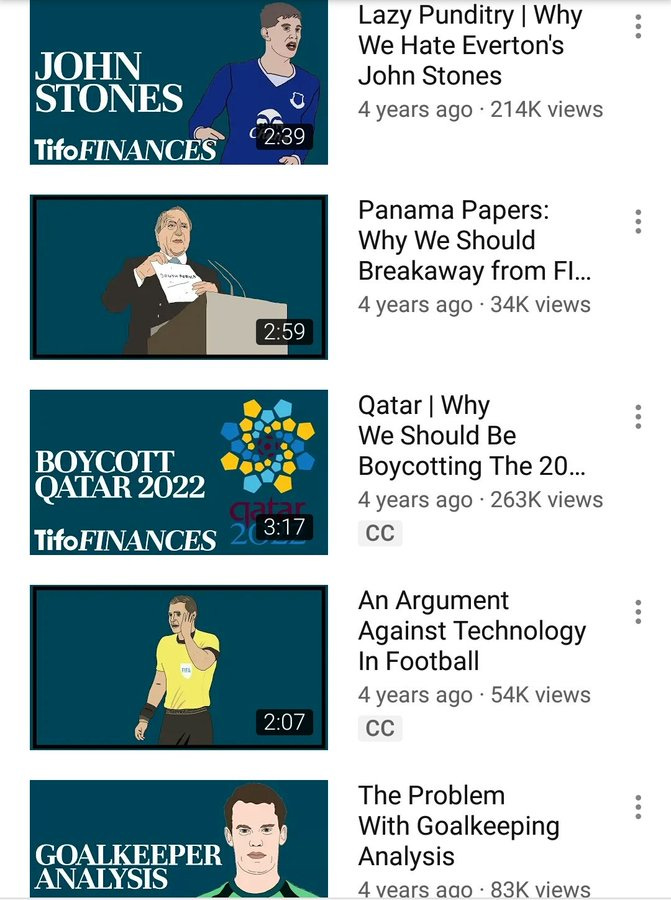 [Tifo Football: YouTube]
What's the biggest change you've made as a content strategist?
They are indeed. I think a lot of the 'strategy' work was around how to branch into more topics while retaining the Tifo voice. And then refining the visual style, which is definitely not my area. But in terms of the approach, that was nailed early by Joe.
A lot of the work I did before we joined The Athletic that wasn't writing was working with agencies, pitching Tifo, trying to secure commercial deals and so on. I'm much happier now that I can focus on tactics and players and son on, and thinking of ideas for videos!
Glad to hear that. Tifo paved a new way of thinking about football content creation. Many brands look up to guys. Who inspires you?
Personally, Jonathan Wilson was a great influence both with The Blizzard and with Inverting the Pyramid. Michael Cox's work opened tactics up in a more online way, too, which helped.
And with analytics, Statsbomb and the crew there have taught me (indirectly) a huge amount, as did Simon Gleave. I think content-wise, we wanted to produce stuff we would like to read/watch ourselves, but I'm sure Joe would answer that better w/r/t visuals and so on
Have you had cases where videos sparked debate? How do you guard against fake news?
Debate yes: mostly some of the more political stuff we've done, but that's all good. We don't really respond to the news cycle and we use very good freelancers on the rare occasions we do (James Montague, e.g.) so fake news isn't an issue if you work with people like that.
Tifo was acquired by The Athletic. What has changed since then, and was it a difficult call to make for the team?
We've gone up to four videos a week, and there have been some podcast changes, using TA journalists more. We're also looking to work more closely with the amazing journalists on the editorial side to bring work that sits across platforms to the audience.
It wasn't a difficult choice to make, no. Well not for me. I had been a subscriber to TA since before we worked with them and really admired their approach and the type of work done there across all sports. When they moved into football and wanted to work with us... ...it felt very natural. They view content the same way. Personally, too, it's been great fun. They have an incredibly talented bunch there, some of whom I knew already, and it's really helpful to be able to draw on that knowledge and experience, and share some back
That seems like a perfect match. Who is as close to perfect as you've seen as a footballer?
Ha, great question. So, I personally have a real thing for very tidy, functional midfielders. Nothing flashy, but rarely make an error, keep things ticking over for their team, win back the ball etc etc. So players like Kante, Laimer, and so on are ones I really enjoy watching
At Saints, we've had players I've watched like Oakley, Surman, Marsden, Delap, who kind of fit that pattern. I also really like CMs/DMs who do that, but with a bit more, though. So maybe if I had to pick ever, someone like Albertini or Redondo?
You can see more of Alex's work on Tifo Football