Football Fans As Data Scouts with Thomas Lintz of Transfermarkt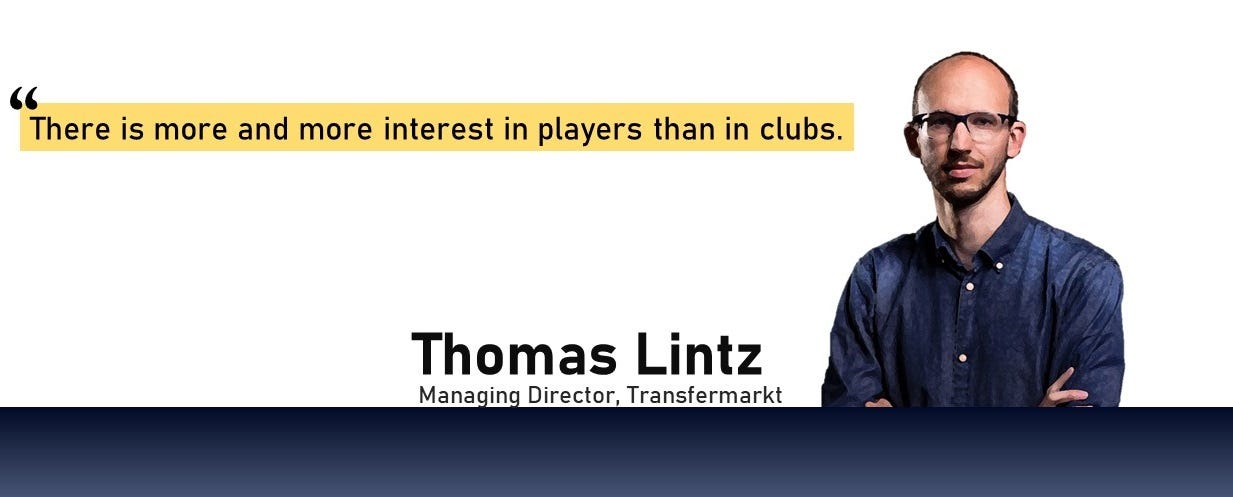 The football transfer market is a big source of news and excitement for fans. Transfermarkt is synonymous with that market. Using crowdsourcing, the Transfermarkt database hosts about 760,000 player profiles, 80,000 coaches, 41,000+ referees, 75,000 clubs, and more than 12,000 agents. What started as a hobby for Matthias Seidel has become football's largest data community.  We had a chat with Thomas Lintz, Managing Director of Transfermarkt.
Can you tell us a bit about yourself before you joined Transfermarkt?
I joined Transfermarkt already during my studies (environmental management) in part time, starting as country manager for Transfermarkt's Austrian site out of Vienna. That was in 2007, just before the EURO 2008. Need to add: I have been a registered user to the portal before, enjoyed discussions and the data in Austrian third league...
As a platform driving some of football's most interesting discussions, what is the scope of audience?
Transfemarkt's audience is certainly somewhat more nerdy than the average football fan: There are a lot of real experts and enthusiasts using TM. We are also a major resource for people working in the football industry: managers, scouts, player agents and players themselves.
Interesting. What has changed in terms of use between the time you joined and now?
Oh, that have been some years ;) But we see certain trends:
- Our audience is growing
- International use is growing faster than in our "home ground" Germany
- User spend less time per visit on the page, but come more often (meaning they more often check facts and don't discuss so much any more)
- A strong shift from desktop to mobile use
- There is more and more interest in players than in clubs
What is the future of Transfermarkt as a product? Can you share any insights on your product roadmap?
Our most important plan is internationalization. Football is world's no. 1 sport and we think that a product like Transfermarkt will be interesting for fans all around the globe.
From an editorial point of view, we will be focussing more on what we call "Transfermarkt hero content" - content only we can produce as we have this database and our community. Also, we will try to enter B2B fields more intensively, talking about agent or scouting services.
And we'll stick with the things we love to do every day: Adding new stats, updating and improving existing features. That's already a lot.
What category use Transfermarkt the most between scouts, players, agents, and other professionals?
Player profiles are our top sites among all sorts of users. I bet some professionals also like to read about themselves in the discussion forums, too. Agents got a special agent service section on Transfermarkt, they obviously use that a lot.
Transfermarkt is a community leveraging on users providing data. You also have more expert users - data scouts. How does one become a data scout?
You're right. Just alike Wikipedia, everybody is invited to join the TM community and suggest data entries or changes, you just need to register as a user. Data scouts normally are users that have been entering some 100 corrections and then are asked if they want to join the data scout team by others. There are also data scouts who applied on the website (there is a simple form available) or just sent us an e-mail stating their wish to add some league or to add some kind of data.
Data scout form: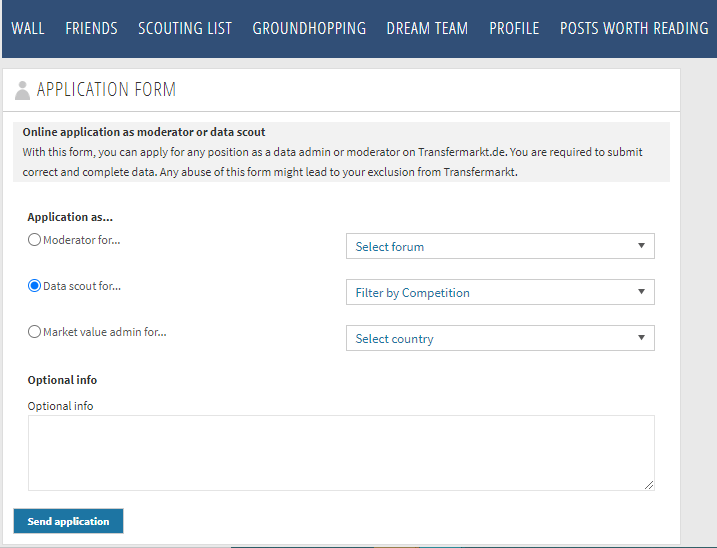 Transfer data is one of the most exciting football contents. What other data on your site do you think users tend not to be aware of?
I think a hidden gem is the information on a player's agent and vice versa, that's a unique thing. Although we know that it may not be 100% reliable all the time, as it is a kind of intransparent market. Personally, I also enjoy the market values and contract lengths.
Talking about transparency: how does Transfermarkt guarantee their player evaluation remains valid and not manipulated?
We have implemented several layers of control there plus there is always the public taking a close look on every update. But sure, the smaller the leagues, the less interest, the less control. We need to be careful.
What do you enjoy the most about your job? (question by @gilbert_oforka)
That's a tough question
But I guess it's the transfer deadline days in the office when everybody in our team is on fire until late night. That's the essence of our job.
Is there anything you'd like to tell people who know Transfermarkt or just heard about the platform for the first time?
Thank you so much for the interesting questions! To all readers: Transfermarkt is a platform for fans by fans, so feel free to join the community and make TM a little bit better! But attention: Tends to be addictive ;) Also my DMs are open.
You can find out first-hand how addictive Transfermarkt can be by playing the What's My Value game.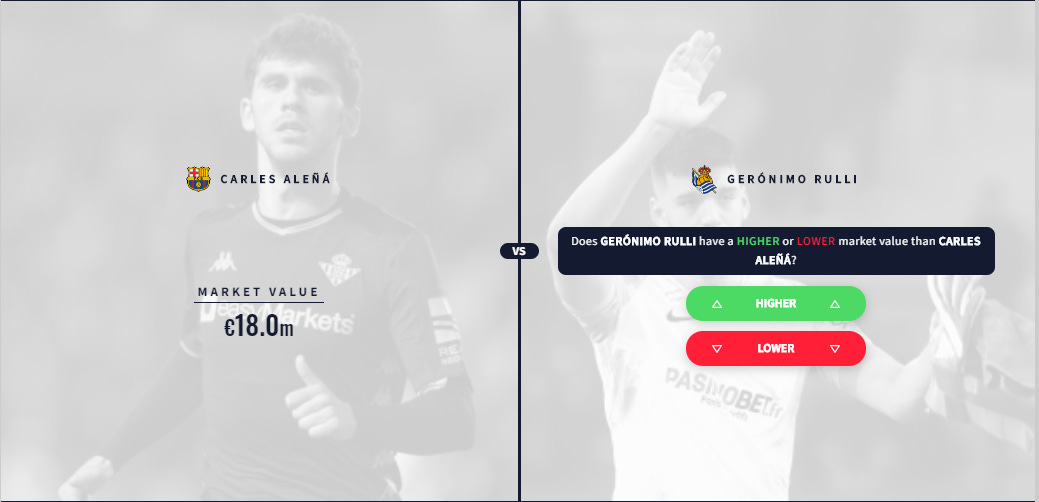 Thomas Lintz is available on Twitter @ThomasLintz